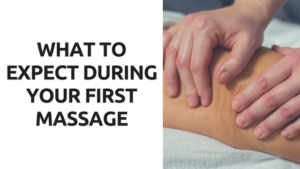 For many, massage therapy isn't really on the radar as part of routine healthcare. It may have just been something that was part of a spa gift certificate the family got mom for Mother's Day or a splurge before a big event, like a wedding. But the massage industry has only grown over the last several years, and with it, a new public acceptance of massage therapy as part of a healthcare and self-care protocol. While it may seem a little intimidating to get your first massage, let me put you at ease by filling you in on all the details of what to expect.
You'll want to arrive ten to fifteen minutes early to your first appointment. You'll fill out some brief paper work which will ask about your current medications, recent injuries etc, to help me understand your needs, and plan your session. We will go over anything that needs further explanation to gauge the pressure you might want, the areas of focus, the areas to avoid, and any medical issues that may affect your experience.
One thing most people wonder about is how far to get undressed. The main thing to remember here is that your comfort is always the main goal! Most people either undress to their underpants, or undress completely. It is always your choice though, and if you decide to keep a bra or pants or anything else that makes you feel comfortable, I am happy to work around anything. I will say that the more clothing or jewelry I have to work around, the less I feel you are getting the full experience. That being said, it's worth repeating that your comfort is the main goal so make the decision that is right for you! In certain cases, for example low back pain. I might suggest extra work and even cupping (I'm happy to go into that with you if you're interested) on the gluteal muscles. This would mean not having underpants on. You are in charge of that decision and can absolutely opt out. It could be the case that you are not comfortable with it for your session today but next time you come in you've changed your mind. No problem!
Now would be a good time to talk about draping! You may be asking yourself how you will be covered during your massage. I uncover the body part that's getting worked on and cover it back up when I'm done. Your groin and, in the case of women the breasts, will remain covered at all times. I know it can be intimidating to think that only a sheet and blanket will be separating you from a stranger. Your modesty and comfort are extremely important to me. If for any reason, you feel uncomfortable at all, don't be afraid to communicate your concerns. This is your time and your service, so your comfort level is of utmost important.
Along with your comfort comes the discussion of pressure. If at any point in the massage you need more or less pressure, please let me know! I can't read your mind, so it's important for you to speak up if you need anything changed at all. This also goes for anything with the technique. The important thing to remember is that this is your time and it needs to be what you want. Whether that's concerning the pressure, the music, the feel of the cream or oil being used, or anything else; let me know how we can make the experience great for you.
It's normal in the beginning, especially during your first massage, to be a little tense, but try to allow yourself to truly be present and enjoy. Once your session is over, I'll give you privacy to let you come back to your senses and re-dress. Before you jump up off the table though, take a moment to breathe and soak in the feelings you're experiencing; the looseness in your muscles, your calmed mind, and just the peace and quiet. You deserve it.