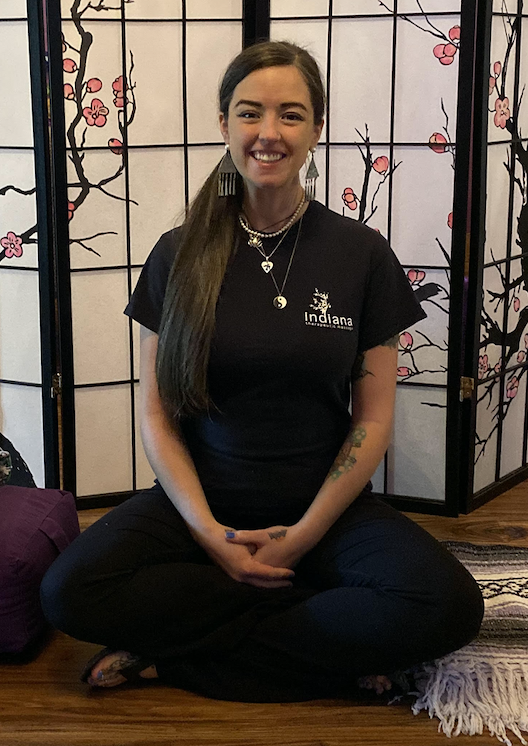 Maple graduated from Indiana Therapeutic Massage School (ITMS) in April of 2017 and immediately opened her own studio for which she is the sole practitioner. After getting a Bachelors's degree in Psychology and Sociology from Indiana University in 2011 and getting a job as a Social Worker, Maple decided that profession was not for her.
During a massage that was gifted to her as a wedding present, the idea came to her that going back to school for massage therapy was an obvious move. Growing up with her father being a massage therapist, she has a strong belief in bodywork. Between that and the obvious perks of working for herself, it seemed only natural to create a career that she was passionate about which encompassed both. "ITMS felt like home," she says about her alma mater in Indianapolis. The instructors and co-students became integral in her growth as a Massage Therapist and as a person. There she found all that she needed to succeed as a massage therapist and entrepreneur.
She now thrives on making each session tailor-made for her clients so that their experience at her studio is one of a kind and meets their precise needs. Constantly looking to improve her skill and technique, she is always researching and attending training for new modalities to better serve her clientele.
Swedish and Deep Tissue massage make up the foundation of Massage by Maple, and other modalities consist of Warm Bamboo Therapy (similar to Hot Stone), Thai techniques used for stretching and flexibility, Cupping Therapy for which there are multiple benefits, and the Bellanina which is a face/hands/feet treatment, Yomassage, which is a small class setting that consists of a mixture of gentle yoga positions and massage and off-site massage for offices/events and in home massage for the home bound, those just wanting to stay in the comfort of their own home, or a specialty of Maple's, geriatric massage with special interest in people with dementia.
Going on only six years in the practice of massage therapy, Maple is excited to see what the future will bring on this adventure of bringing wellness to her community!!